Even though we've made our way through dupes for the Liftoff, NRG, tea concentrate, aloe, collagen and flavor mixes, our inbox has still been blowing up with requests for the popular Specialty Drinks.
First, let's talk about what makes these Specialty Drinks so special. They are simply energy drinks, without the tea component, that contain added protein, collagen and biotin. They range from about 105 to 115 calories and pack 17 grams of protein. 
This line of drinks include some of the most popular ones such as:
Pretty N Pink
Jimmy Buffett
Southern Belle
The Specialty Drinks are also the most expensive options, ranging anywhere from $8 to $12. Some people are paying even more than that for ONE of these drinks.
The unique ingredient in all of these Specialty Drinks is the Herbalife Beverage Mix. It comes in two flavors, wild berry and peach mango, and provides the extra 15 grams of protein. A canister of each mix will run you about $35 for 14 servings if ordered online. You'll be told you can get it cheaper by ordering directly through a distributor, but let's be real – nobody wants to deal with that. 
We knew there had to be a dupe out there that could give y'all these specialty drinks, and I'm so excited to share that we found it! Once again, this is the real deal.
Health Wise Fruit Drink Mix is the Ultimate Herbalife Beverage Mix Dupe!
Let's Talk Ingredients
It comes in the EXACT SAME two flavors as the beverage mix, making it possible to dupe every single Specialty Drink! Not only are the flavors the same, but the contents are nearly identical.  At this point I'm really beginning to wonder why anyone would ever need to step foot in a "nutrition" tea shop again.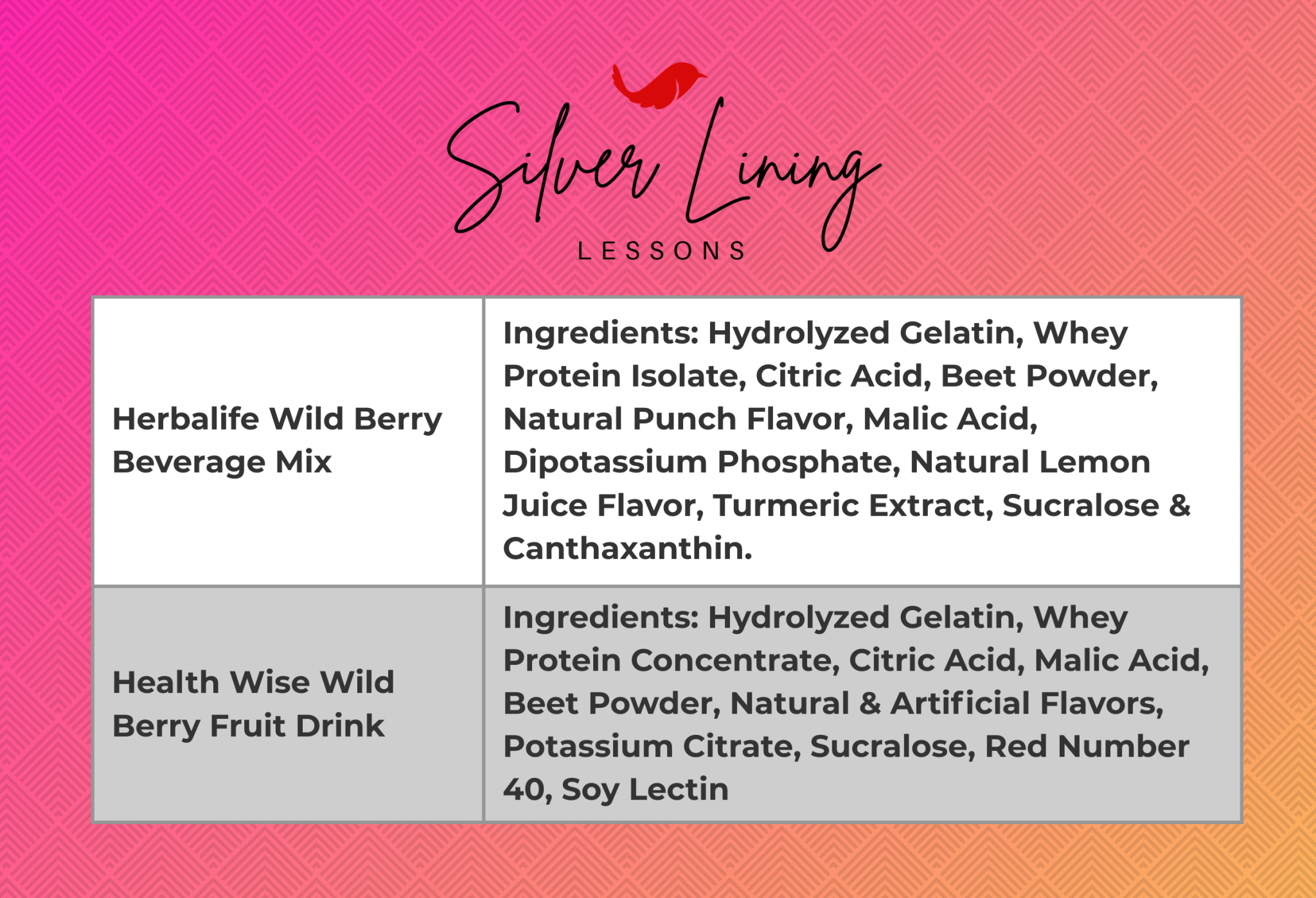 Let's Talk Cost
I ordered a seven-pack box of the Health Wise mix from Amazon for $11.56. Each packet makes one drink, ringing in at $1.65 per serving. When you factor in the savings we've already shared from the other dupes, you can make a Specialty Drink at home for roughly $2.00.
We're coming for the whole menu now!
We've  experimented with the most popular flavor combinations and this dupe is legit.
You can find these Health Wise drink mixes linked here in my Silver Lining Lessons Amazon Shop.
**The links in this post are affiliate links. This means if you click on the link and purchase an item, I will receive an affiliate commission at no extra cost to you. All opinions remain my own.