Let's play a little game here. Read the following two claims and say the first product that comes to mind:
"Quench your thirst! A 3-in-1 fitness drink that provides rapid hydration, sustained energy and antioxidant protection so you feel refreshed and rejuvenated all day long!"
"Designed to quickly replace the  sodium and potassium lost through sweat!'
Did you immediately think of Gatorade?
If you did, you got it right! Herbalife just decided to call it H30 and charge its customer four times the price.
As we make our way through duping the entire "nutrition shop" menu, it becomes more and more apparent that Herbalife is nothing special. Their products are not unique, just extremely overpriced. 
H30 is no different. It's Gatorade. Not just any Gatorade though! It's specifically the Gatorade Endurance Formula, which is packed with extra sodium, potassium, and carbs for endurance athletes. When I say it's for endurance athletes, I'm not talking about people at your local gym. It's the official hydration product for IRONMAN races – the hardest endurance race on the planet! 
But your local nutrition club seems to pitch it a slightly different way. I pulled this quote from a nutrition club on Facebook: "I have the best hydrate drink for all athletes from little kids in soccer teams to guys and girls in the big league h30 hydrates you faster than other sports drinks!" I won't list the shop name her to save them the embarrassment, but you can easily see similar bogus claims being made all over social media. They really should be ashamed.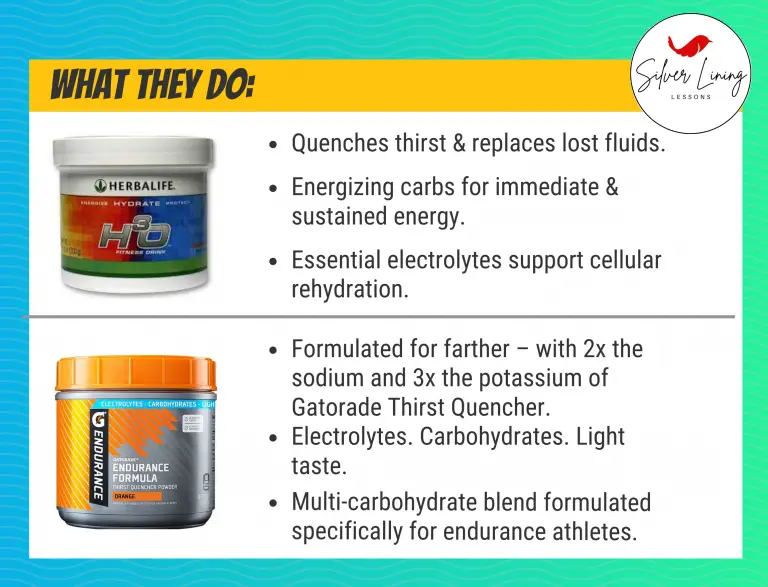 Okay, so these products look the same and do the same things, so surely they're priced similar, right?
Well, that's weird! It looks like we have another overpriced product. Let's break it down a little more.
The serving size for Herbalife H30 is two scoops (15g) in 8 oz. of water. The Gatorade Endurance Formula is one and a half scoops in 12 oz. of water. If we reduce that to make an even comparison, it's actually once scoop (16g) in 8 oz. of water. This gives us a gram to gram comparison for both products. Weird how all of the numbers are almost identical, except for the price. 
How does it taste though?
The Gatorade Endurance is not too sweet, not to salty. I probably wouldn't drink it as a standalone product, but I'm also not an Ironman so I wouldn't really need to drink this for any reason.
Here is what we learned. Gatorade Endurance is mild enough that you can easily control the flavor. Adding 1/8 to 1/4 teaspoon of any flavor mix allows you to make any flavor hydration mix to add to your teas. For example, adding 1/4 teaspoon of an orange drink mix will give you the "orangeade" flavor. It works with just about all the flavors, too! 
Be sure to check out the new hydration teas listed on the tea menu board.
**The links in this post are affiliate links. This means if you click on the link and purchase an item, I will receive an affiliate commission at no extra cost to you. All opinions remain my own.