It is important to have an emergency fund so you won't go further into debt when life happens, as it inevitably will.
The baby emergency fund is the bare amount you should have before aggressively paying off debt. This provides a cushion to help you in unexpected emergencies, like a car repair, sick child, or dental bill. A financial buffer allows you get through a tough time without having to take on more debt. The goal is to not allow these disturbances to send you into a financial tailspin.
While the concept of a baby emergency fund is simple, determining the amount isn't always as easy. Many people are left wondering if they really even need one and, if so, how much.
I'm going to show you the top ten reasons why you need an emergency fund, real life examples of how ours has been used, and then help you determine which strategy works best in your situation.
If you have been following along with us, you know the first ten months of our debt payoff journey has been filled with speed bumps. Like, so many speed bumps!
Had we not been able to dip into our emergency fund, our plan would have been completely derailed. Each month seems to bring a new and unexpected challenge, but our safety net has allowed us to stay on course.
These are the hurdles our emergency fund has jumped so far:
Medical Bill – $100

Dental Bills – $185

Car Repair – $225

Medical Bill – $210

Heater Repair – $250

Car Repair – $235

Dishwasher Replacement – $950

Car Repair – Pending
Total: $2,155
If you're new here and want to learn more about our progress, check out the monthly updates to get the full picture:
Show Me The Money: $7K in First Four Months! (silverlininglessons.com)
Yearend Payoff Update (silverlininglessons.com)
How I Paid Off Over $20K in 8 Months (silverlininglessons.com)
How I Paid Off Over $30k in 10 Months (silverlininglessons.com)
How much do you need?
There are tons of ways to determine an amount to get you started. These are four of the most common strategies when trying to decide what works best for you.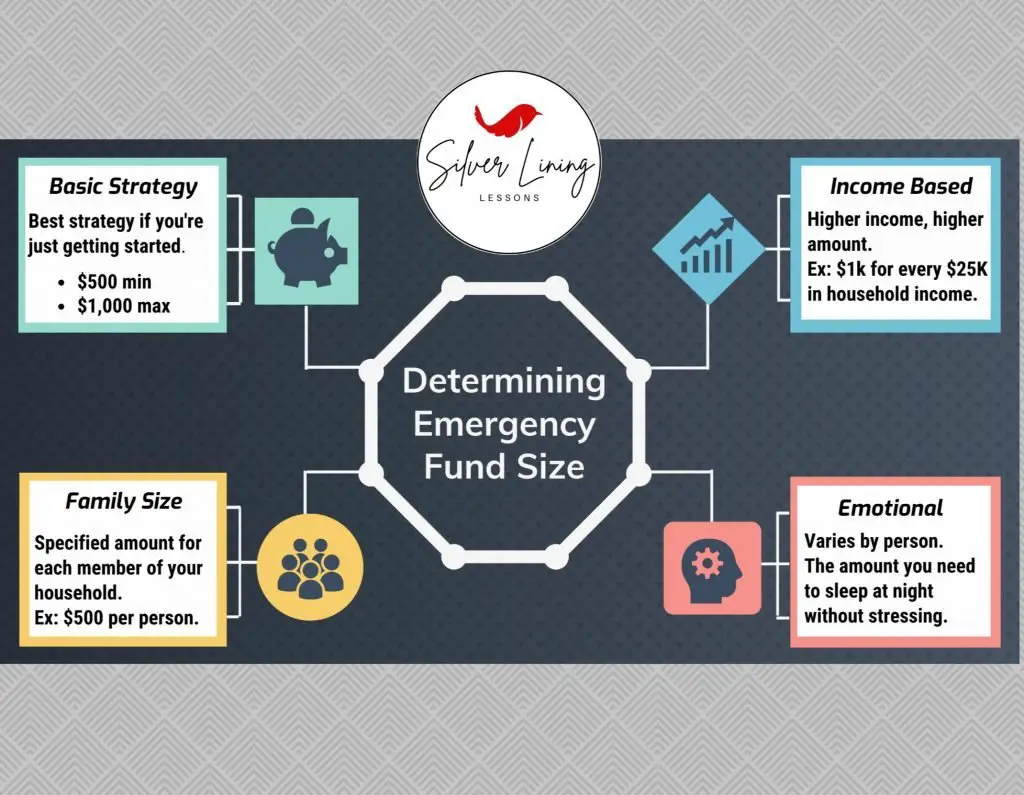 Basic Strategy: $500 bare minimum up to $1,000 maximum. This is the strategy Dave Ramsey recommended if you're just getting started.
Income Based: The higher the income, the higher the emergency fund. For example, you should have $1,000 for every $25,000 in household income.
Family Size: A specified amount for each member of your household. For example, $500 per person.
Emotional Minimum: The amount you feel you need before you can become emotionally invested in your debt payoff. In other words, whatever you need to sleep at night. For some, this may be $500, and others could be $5,000.
The amount we chose and why.
For our amount, it was a combination of family size and emotional minimum.
(Side note: My husband says this is because I don't leave the store without a family sized bag of M&Ms and I tend to be a tad bit emotional. I don't know what he's talking about, though.)
To me, the emotional aspect is the most important and often the most overlooked. The path to debt payoff will be long and hard, but it will be much worse if you are tired from the start.
While we determined our emotional minimum was $2,000, we felt that allotting $1,000 per family member (four members, so $4,000) was our safest bet. This would allow us to take a few hits along the way (as you can see we did) and still sleep easy while we replenished our fund and continued moving forward.
In life, a lack of planning will almost always lead you off track. It's no different when attempting to pay off debt.
Planning is the biggest key to success, and it all starts with an emergency fund.
If you prepare for these unforeseen events, you won't have to panic or stress nearly as much as being caught flatfooted. While you can expect the unexpected, you don't have to let it ruin your plan.
What is your emergency fund amount and how did you decide? Tell me in the comments below.
Remember to SUBSCRIBE and FOLLOW US to stay up to date on all things Silver Lining Lessons.