Summer was just easier in the 90s.
Most of us were home because our parents worked and we had to figure out how to entertain ourselves all day, which totally felt like an eternity.
No cell phones. No screens. No social media. Very limited Nintendo and internet options.
You got what you got when it came to TV and radio. MTV and VH1 where the holy grail of summer. Although, it did feel like I waited a lifetime to hear MMMBop on TRL every single weekday. If you were lucky, your local radio station would play your call-in request and actually say your name. Then you were small town famous for the day!
Nickelodeon helped us pass the time. We had Rugrats and Doug and Rocko's Modern Life. We had Keenan & Kel and All That and Clarissa Explains It All. My favorite had to be The Secret World of Alex Mack! And what kid didn't want to be on Legends of The Hidden Temple?
Fun Fact: Keenan is still one of my favorite members on SNL.
Bicycles got us everywhere we needed to go. Of course, they were decked out with handlebar streamers and a basket for the important stuff, like the Tamagotchi barely surviving and probably a Fruit by the Foot. I usually had enough room for Barbie & Skipper, too.
There were countless days spent seeing how high we could go on swing sets and trampolines. You ain't lived until you've gone so hard on a swing that the poles come out of the ground. That mid-air jump and perfect landing was next-level and fully deserving of a popsicle break.
It was spraying Sun-In in our hair and laying on beach towels in the driveway so those lighter strands would really glisten in the butterfly clips. Weekly trips to the mall were filled with all the Limited Too and KB Toys our hearts could handle. And how exciting was it to finally get to order something from the Delia's magazine? The BEST!
Then we threw on a fresh pair of Keds with crop tops and Levi's, and we were just cooler than cool. Almost too cool!
We played MASH, beat Oregon Trail, learned The Macarena, loved Britney & Justin, collected Beanie Babies, drank all the Fruitopia, and most importantly – we survived Y2K!
While all of that seems so long ago, we can still share pieces of our 90s summers with our kids.
Hook up an old-school sprinkler in the yard and bust out the popsicles. Bonus points if you do Push-up Pops, but you have to let them drip all the way down to their elbows to get the full effect.
Stock up on Dunkaroos (they're back!!) and ice-cold Yoo-hoos. Make Bagel Bites for dinner and crack open a bucket of Cheez Balls.
Watch old episodes of Mary Kate & Ashley and Saved by the Bell while showing them the art of homemade friendship bracelets. Then you introduce them to The Sandlot and Mrs. Doubtfire. If they like those, then move on to Dennis the Menace and Little Giants.
Kick off your shoes, pump up those bicycle tires and enjoy a long ride to nowhere.
Roll the windows down, throw your big sunglasses on and crank up some Spice Girls.
They may never fully comprehend having to wait for the never-ending scroll of the TV Guide only to miss your channel, and they probably won't know what it's like to not be able to skip commercials.
But if you take the time to slow their world way down and throw it back, maybe they can feel a teeny tiny bit of that easy 90s summer magic.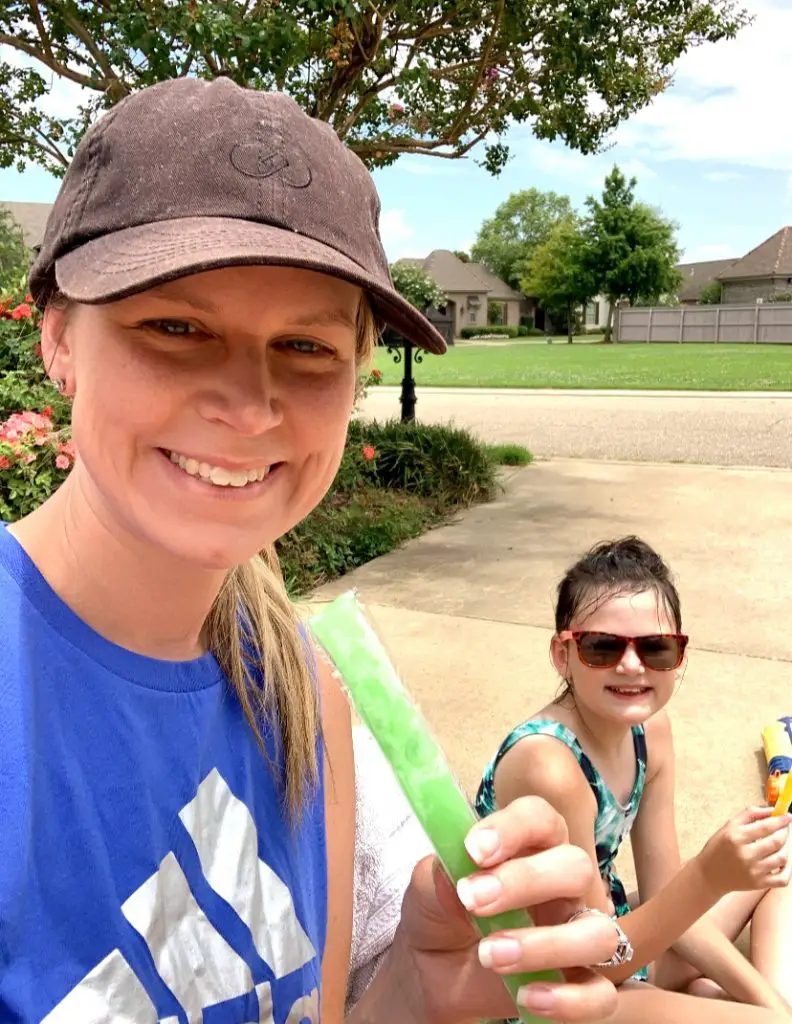 Remember to SUBSCRIBE and FOLLOW US to keep up with all things Silver Lining Lessons.