We've talked about how to create a budget, but what about actually sticking to it? That's the hard part, friends!
Most of us that have a set budget try really hard to hit our goals. We start out with great expectations and intentions, but then life happens and we stray off course.
Don't beat yourself up when that happens! If you already have a plan, then you're ahead of the game. Did you know that less than 40% of U.S. families maintain a household budget? So, give yourself some grace and space to learn.
Like any other skill, budgeting is something you can get better at with practice and hard work.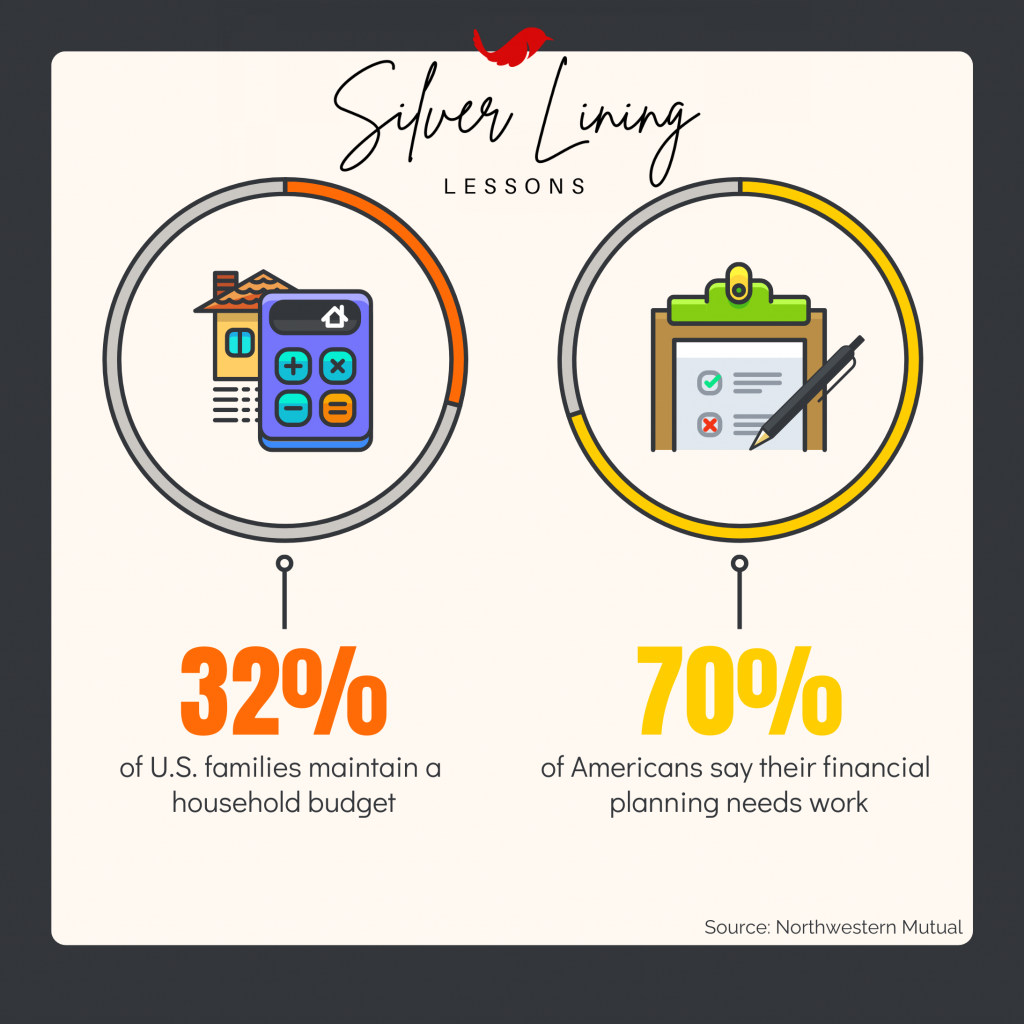 If you fall within that 70% who say their financial planning needs work, then welcome to the club!
I don't know about you, but I am always looking for new and better ways to spend smarter, save more, and pay off debt more efficiently.
Staying on track is not an easy task, and that's why the average American household goes overbudget. It's inevitable! Financial obstacles are part of everyone's journey to debt free living.

Just promise that you won't throw in the towel when you have a bad week or month. You owe it to yourself and your future to stick it out and work on the areas that can improve your ability to finally master your finances!
Here are 10 tips to help you stick to your budget.
1. Teamwork
All aboard! For a budget to work, your entire household has to be on the same page. You wouldn't expect to win a big game if only half of your team is playing, right? It's the same here. Teamwork is key! Talk openly with your family about the weekly/monthly goals and expectations. Let everyone play a part and get involved with it.
2. GROCERIES!
Ugh! The dreaded grocery bill is a serious budget killer at our house. Hi, my name is Jana and I have a snack problem.
Planning meals and making a list before shopping are two things we have implemented to avoid overspending. I like to clean out the fridge, take inventory and plan meals based on what we have on hand. Then, I'm ready to tackle the shopping with my list all mapped out. It definitely helps cut down impulse purchases!
Another thing that has helped is letting my husband do the majority of the grocery shopping. He goes in, gets what's on the list and gets out. I don't know how he does it! The distraction of new snacks I need to try and elaborate recipes that I'll never make leave me with a buggy full of unnecessary junk. Oops!
3. Track Those Dollars
I've said it a thousand times, but The Dollar Tracker is seriously the best thing you can do to help yourself! There's something about writing it all down on paper and being able to visualize where all of your money goes that puts spending in perspective. It makes me really think about my purchases. Do I want to write that down? Is it really worth it? More times than not, the answer is NO.
4. Be Flexible
Keep in mind that a budget is fluid. It can change as often as you need it to based on your expenses. If you see an area that simply isn't working, don't be scared to adjust! Sit down with your numbers and find where you can move things around to correct the issue.
For example, we almost always overspend on groceries (shocker, right?) but are normally way underbudget on entertainment. So, we adjusted to allot more to groceries and less to entertainment – easy fix! Learn as you go and fine tune it until you find what works for you!
5. Pinpoint Your Weakness
We all have at least one area of spending that is a major weakness. For me, it's Target, iced coffee, dining out and online shopping.
For real though, I'm like a toddler that cannot be left unsupervised when I get in Target alone. It's just not a good idea and I'm fully aware, so I don't take long walks down every aisle looking for things I don't need anymore.
I further eliminated temptation by deleting shopping and food delivery apps from my phone and unsubscribing from email lists. It's harder to be drawn in when it's not right at your fingertips. Just keep putting little roadblocks in your way to make you stop and think before spending.
Maybe you spend a lot on music, clothes, an expensive hobby, or bad habits like smoking or gambling. Whatever your weakness may be, get ahead of it before it gets the best of you!
6. Learn To Say No
It's not always fun to say "No" but sometimes it's necessary.
Your kids may want the hottest new Xbox game or the trendiest pair of shoes, but it's okay to say no if it doesn't fit the budget.
You can politely decline the invite to dinner and drinks at the hippest spot in town if it would throw off your whole month.
Normally, the hardest person to say no to is yourself. The need to keep up with Perfect Patty down the street or feeling like your kid needs the newest, nicest things to be cool is an internal battle.
Saying no doesn't mean you have to sacrifice fun or sit at home all pitiful-like. Not at all! You just have to be real with yourself and find more creative ways to have cheap fun. Things like board games, card games, puzzles, picnics and outdoor activities are simple ways to save money.
7. Think Big Picture
It's so important to look at the big picture. When you get frustrated with saving money and tracking every dollar, remember why you are doing it. I know blowing it out on that fancy dinner at the trendy restaurant downtown sounds heavenly, but think about your debt balance hitting zero. Don't let today's frustrations blur your long term vision.
Each purchase is a decision to either stick to your budget or stray. Do we cook at home or eat out? Look at your budget and see where you are, then you get to choose – stick or stray? When you make up your mind that you are going to stick with it, then each purchase becomes a small part of the big picture.
8. Plan For Emergencies
Do you want to know a surefire way to completely wreck your budget? An unexpected expense that you are not prepared for. Yeah, that'll do it every time!
Your car breaks down unexpectedly on your way to work. It has to be towed to the shop and you're now the proud owner of a $700 repair bill.
The heater in your house decides it doesn't want to work anymore on the coldest day of the year. Nice! Bust out the fuzzy socks and cozy blankets and hope you don't have to replace the whole unit. If you're lucky, you'll get out for under $300.
That tooth that's been kind of bothering you for the past few months finally decides it's had enough. One emergency dentist visit and $200 later, you have a fancy new crown.
In my situation, I came home one day to find out my husband lost his job with little to no notice. Talk about a gut punch! Things could get very serious very quickly if you don't have a safety net.
These unplanned expenses can absolutely throw your entire budget out of whack in the blink of an eye! It's easy to fool yourself into thinking something as serious as a job loss will never happen to you until it does. The best way to try to avoid these situations is to establish an emergency fund.
Why You Need an Emergency Fund (silverlininglessons.com)
9. Treat Yourself
Leave room in your budget for rewards! This will keep everyone motivated. Rewards could be something as small as splurging at the grocery store, a new game for the kids, or even takeout on the weekend.
It doesn't have to be elaborate. Even little things will go a long way toward improving your drive to succeed. Celebrate the milestones, big and small!
10. Cut The Extras
We've all ended up with those unused memberships or subscriptions. I'm guilty, too!
Gym and tanning memberships
Newspaper, magazine, television and music subscriptions
Phone apps and add-ons
Those pesky fees will autodraft out of your account like clockwork if you let them. Cut them out! Make sure you have cleaned up and canceled anything you don't need or don't use. Delete the apps, unsubscribe and cancel those memberships, honey!
Remember that everyone's budget looks different, so you have to find what works for you and stay committed to that plan. It may take several months of trial and error to iron out the details, and the hard work will pay off. When you're faced with the choice to stick to your budget or stray, do yourself a favor and stick with it.
Don't let these budget busters come in and mess you up. Be prepared, follow the plan and adjust when needed.
What helps you stick to your budget? Share your tips in the comments.
Are you new to budgeting? What tips are you excited to try?
Remember to SUBSCRIBE and FOLLOW US to stay up to date on all things Silver Lining Lessons.