When we sat down for the big budget meeting at the beginning of our payoff planning, we knew that our monthly cable bill had serious room for reduction. Cutting the cord completely had been a major topic, but I never really thought we could do it. I loved my DVR and infinite channels and everything E! and Bravo. Seriously, just give me all of the reality TV and a glass of wine, and I'm good for days! But, I did it. I was a big girl and took one for the team. Now, I want to share what I've learned about how you can still enjoy great TV without cable. Oh, and did I mention that I saved $1,800/year? Best breakup ever!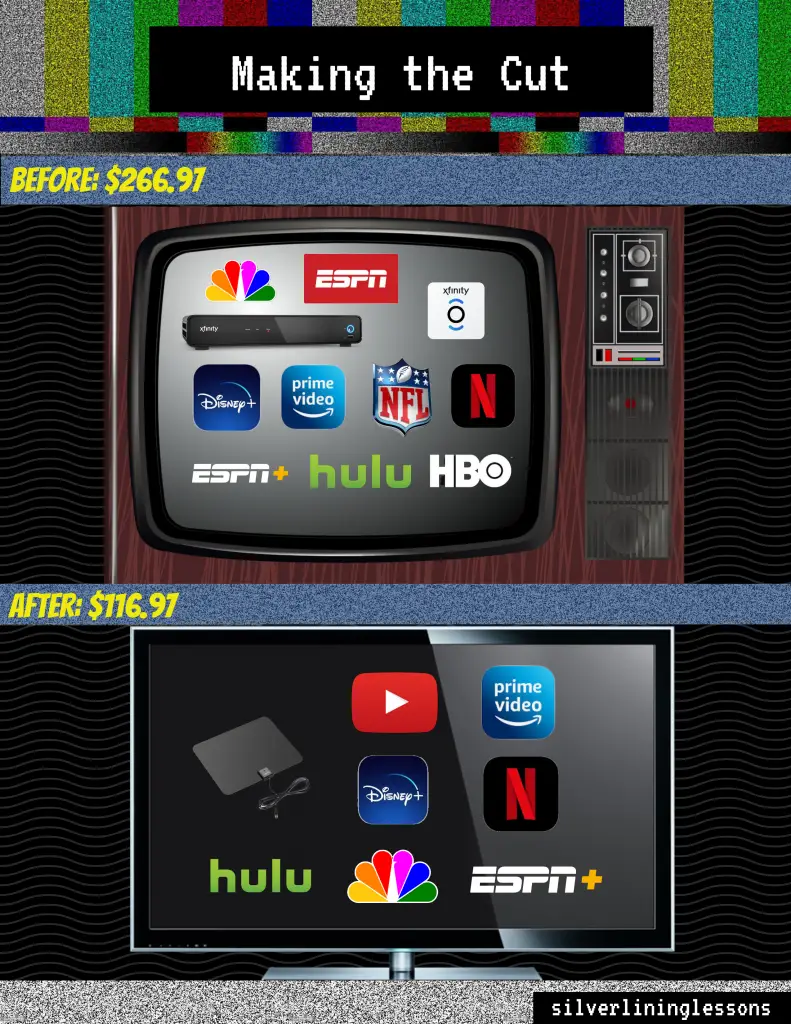 STEP ONE: Make a list of your non-negotiables
This will help you focus on what you actually want. For us, it was important to have access to our local news channels, sports, popular kid's movies and shows, and obviously as much reality TV as I could find.
STEP TWO: Research your options & Decide what works for you
There are so many streaming services, devices, and other equipment, like antennas! It really comes down to what you specifically need and want when you are looking at these cable alternatives. We went with a mixture of several, and it has served us very well.
1. Netflix: Great for kids and family options, and also the best for movies and all of your binge-watching favorites. It's our most used and favorite service!
2. Hulu, ESPN+ and Disney+ Bundle: We initially planned to get Hulu only, but opted for the bundle that added ESPN+ and Disney+ for only $7/month more. It's been well worth that little extra for Disney+ alone. Our kids watch it almost as much as Netflix, and there are some very cool hidden gems tucked in. Hulu is one of my personal favorites, because I get major network news, all of my network shows, like This is Us and The Bachelor, as well as some of our favorite game shows, like The Weakest Link and The Wall. It also has tons of reality TV shows and a great selection of throwback series! Score!
3. YouTube: First of all, there is so much available on YouTube for FREE! I listen to music, watch cooking videos, catch up with some of my favorite influencers on their channels, and even watch tutorials – all for free. One of our favorite things to do as a family is play trivia games and go on virtual tours. All on YouTube!
4. Peacock: This is a newer addition for us, and we like it so far. Actually, we only got it to watch Yellowstone, and then we discovered Saved By The Bell (the new one). Like Hulu, there are many reality TV and game show options, too.
5. Online cable channels: You might be surprised to see how many of your favorite shows are streamed online for free. I've been able to watch select episodes on major networks, like ABC and NBC, for free.
6. HD Indoor Wall Antenna: This one-time purchase is an amazing and affordable option! It picks up all of our local channels plus about 20 more. We can watch everything from the local news and sports to some really interesting home shopping networks, and we've grown very fond of Sewing With Nancy on PBS! There are tons of choices. We went with one from Amazon for only $25.
**This is the number one question we get asked: "What is an HD antenna and does it really work?" It's literally a small, flat pad (think the size of an iPad) that you can mount or just lay flat on a shelf to receive channels. The higher you are able to install the antenna, the better reception and more channels you get. Super simple, affordable and compact! Here is a link to the 10 Best Indoor HDTV Antennas in 2021.
7. Amazon Prime: We have also taken advantage of the streaming options available through our yearly Amazon Prime membership. While we don't consider this part of our cable expense, since we already have the membership regardless, it does offer a pretty impressive lineup. Don't sleep on their sports documentaries and family movies.
STEP THREE: See how much you saved
Now you're probably wondering if all of this is really worth it? Is it really going to save you that much money? The answer is YES! These are the real numbers and how I was able to save over $1,800/year.
WHERE WE STARTED
$235Cable/Internet Bill with all the bells and whistles
OUR FIRST CUT
$115Basic Cable/Internet
FINAL CUT
$ 85Internet Only
TOTAL SAVINGS OF $150 PER MONTH [$1,800/year]
Since we were already paying for the streaming services before we cut our cable, I have not included those totals in our savings calculations. However, you can see the tremendous savings that would more than outweigh the small fees if you are looking to add on any of those to your monthly plan.
In case you are curious, we only pay a total of $31.97/month for these streaming services:
$13.99Netflix
$12.99Hulu, Disney+ & ESPN+ Bundle
$ 4.99Peacock
Before the big cut, we were paying $235 for cable/internet plus $31,97 for streaming, bringing our total to $266.97 every month. How crazy is that? We now pay $116.97/month for everything. That is a total yearly savings of $1,800 on cable alone!
You could save even more than this by going with cheaper streaming options or cutting those altogether. I know it may sound like a lot of work, and you may be worried that you'll miss out on your must-see sports or your favorite reality shows, but there are so many options to keep you in the loop! It has been well worth the transition for our family, and the extra money each month has allowed us to pay off more debt.
What are your favorite streaming options and must-have shows?
Let me know in the comments.
Remember to SUBSCRIBE and FOLLOW US to stay up to date on all things new at Silver Lining Lessons.