We started this debt payoff plan back in June of 2020 with a goal to pay off six figures in sixty months, which meant we needed to average $1,666 each month.
After our first twelve months, I am happy to share that we have paid off over $32,000!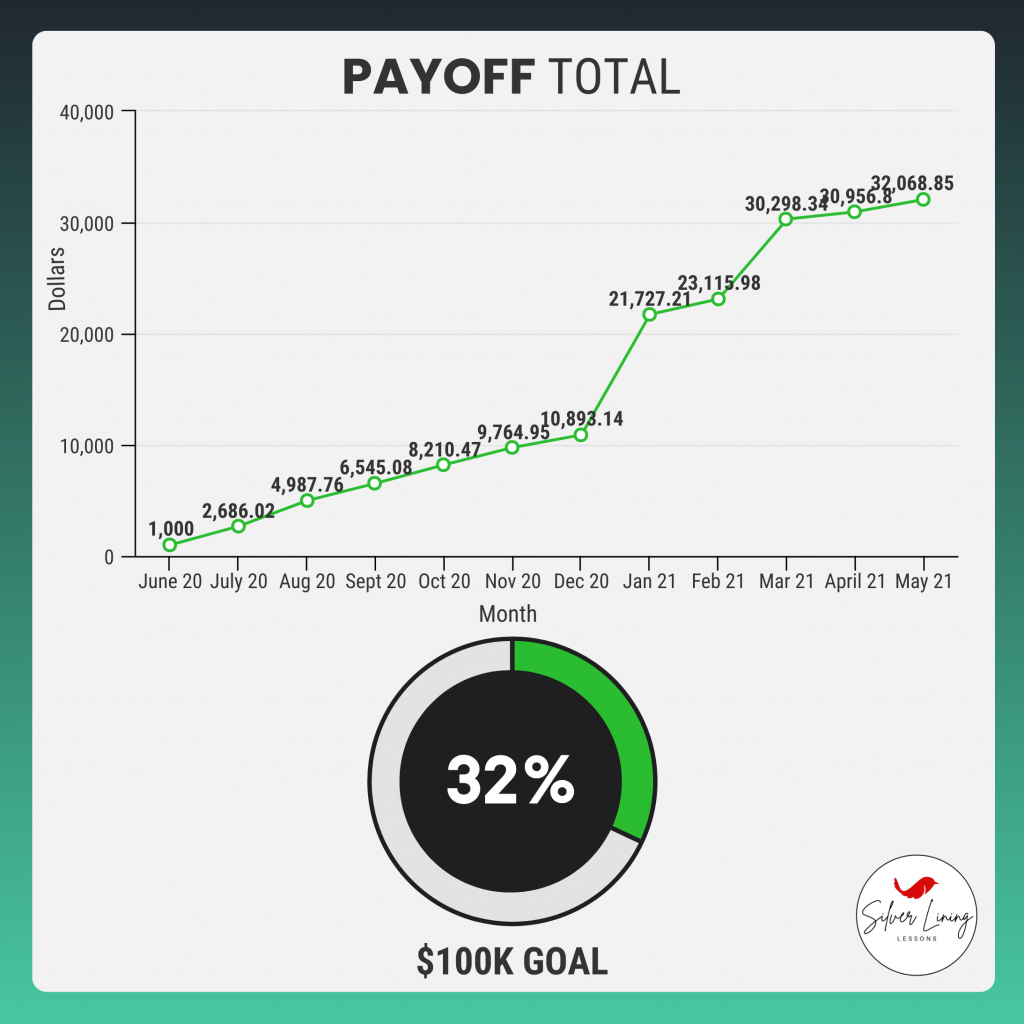 Our 12-month average ended up being $2,672.40 ($1,000 above our goal), exceeding all of our expectations.
Like I've told y'all before, we haven't sold anything, inherited any money, lived on beans and rice, or moved in with anyone. I wish I could tell you there was some magic wand we waved to accomplish this, but it came down to determination, focus and really hard work.
TWELVE MONTH UPDATE
Month 11 – April 2021:

$658.46 of debt paid down
Yes, you read that right. April was by far our lowest month so far, especially after coming off of such an amazing month before, but this is real life. I could blame some of it on an unexpected car repair, but honestly we just lost focus. Instead of paying more toward our debt, we added quite a bit of home security features and ordered take-out a few times.
I may or may not have ordered a few things online….
Debt Paid: $658.46
Total Progress: $30,956.80
Month 12 – May 2021:

$1,112.05 of debt paid down
Okay, so we didn't hit our monthly average goal this month either. The money we would normally use to pay down debt was thrown into our emergency and Christmas funds. We wanted to make sure both of those were fully funded before taking on the next twelve months.
Debt Paid: $1,112.05
Total Progress: $32,068.85
If you want to catch up on our prior monthly updates, check them out here:
Show Me The Money: $7K in First Four Months! (silverlininglessons.com)
Yearend Payoff Update (silverlininglessons.com)
How I Paid Off Over $20K in 8 Months (silverlininglessons.com)
How I Paid Off Over $30k in 10 Months (silverlininglessons.com)
Major Takeaways from the First 12 Months
I've shared with you how skeptical I was in the beginning that this could actually work for us. My budgeting skills and financial knowledge were nonexistent. This whole plan was very intimidating, but I was committed and willing to take it on. Now, after the first year, I believe that no financial goal is unattainable if I'm willing to work hard.
We paid off over $32,000 of our debt, which is over $12,000 more than our 12-month goal, while also increasing our emergency fund by 25% and fully funding our Christmas fund six months before the holidays! All of this was done without having to sacrifice the things we love.
I've learned not to panic over the unexpected expenses that pop up as we go. The car repairs, broken appliances, medical bills and surprises no longer throw me off track. Preparation is key and the emergency fund can seriously save you so much worry!
We didn't hit our goal every month, but some months were way higher than anticipated. At the end of the day, we are making significant progress and that's the best feeling. It's worth all of the budgeting and planning and hard work!
If you're reading this, you are likely either paying off debt of your own or wondering where to start.
Most people are uncomfortable talking about their debt situation, so they don't and end up feeling very overwhelmed. Your financial fitness is just as important as your physical and mental fitness. It's okay to seek help when you're in over your head.
What many of us don't know is that we really aren't alone. Debt is an extremely common struggle, and there are ways to improve your financial fitness. It's even more common to get stuck in the debt cycle.
Here is how you can get started:
Decide you want out – Before you do anything, you have to make your mind up that you want to get out of debt. There has to be serious commitment for it to work. Mindset is everything!
List your debt – Once you've made up your mind, list out every single debt. Seeing how deep your hole is shows you how far you have to climb out. The key is to be real with yourself! It's likely going to sting to see the number, but you have to do it. Debt: Finding your number, then finding your way out! (silverlininglessons.com)
Make a plan – Now that you have your number, make a realistic plan to pay it off. Don't panic if your number is high! That just means you have more work to do. Planning is your first step in the process of digging out of the hole. Remember, you can wander into debt, but you can't wander out of it. You have to follow a map!
Budget – I can't possibly stress how critical budgeting is in reaching your goals. It's also the hardest part of the whole debt payoff puzzle. This is where the Dollar Tracker, the expense cutting, and the burnout really kick into overdrive. Learning how to stick to a budget takes time. These are some of the most beneficial budget changes we made over the last year:
Buying store brand grocery items
Packing lunches for work
Longer spans between haircuts
No more expensive gifts to each other
Limiting Christmas and birthday gifts to only the children in our family
Wearing clothes we had instead of buying new things
Cutting out/canceling unused subscriptions and services
Highly reducing eating out by cooking more meals at home
Maintain motivation and celebrate the wins – Don't lose sight of your big goals! There are so many ways you can stay focused and motivated, but it all comes down to your mindset. Celebrating the wins, big and small, is one of the best things you can do to stay on course. How to Stay Motivated During Debt Payoff (silverlininglessons.com)
You can totally do this!
I encourage you to sit down with your finances and make a plan! Set your goals and be real with yourself. Believe in yourself and stick with it even when it's hard.
Maybe our story will motivate you to jumpstart your own payoff journey. If you've already taken the first steps, I hope this is a place you find encouragement to stay the path and confidence to help exceed your goals.
Remember to SUBSCRIBE and FOLLOW US to stay up to date on all things Silver Lining Lessons!