When my husband and I set our first goal to pay off six figures of debt in 60 months, I was extremely skeptical. I had never been able to save or manage my money, but this huge task was going to take both of us. Those prior vague thoughts of paying off our debt and non-committal vows to spend less were about to be tested. Would I really be able to put my money where my mouth is?
It's been 10 months, and we have just crossed the $30,000 mark!
Trust me, I'm just as shocked as y'all must be that it's working, but it really is! We are actually 8 months ahead of our projected schedule.
So, you're probably wondering – HOW? TELL ME HOW!
The biggest piece of advice I can give you is to have a solid plan. Think of it as the roadmap to your goal. You have to know your destination before you can map it out. Sit down with your finances, wrap your head around where it is you want to go, and then commit every part of your life to a plan that gets you there. I know that may sound totally cliche, and it kinda is, but it's also the simplest, truest advice I can share with you. Everybody needs a map!
Once you have a plan, it comes down to hard work and maintaining your focus. It's much easier when your purpose, or your "why", is clear. Instead of simply saying you'll spend less, think about the ways it would impact your life.
How would it feel to have an extra $100, $500, or even $1,00o each month?
An unexpected, major job loss was my wake up call, but you don't have to wait. I wish I would've been smarter with my finances before life threw a curve ball to get my attention.
TEN MONTH UPDATE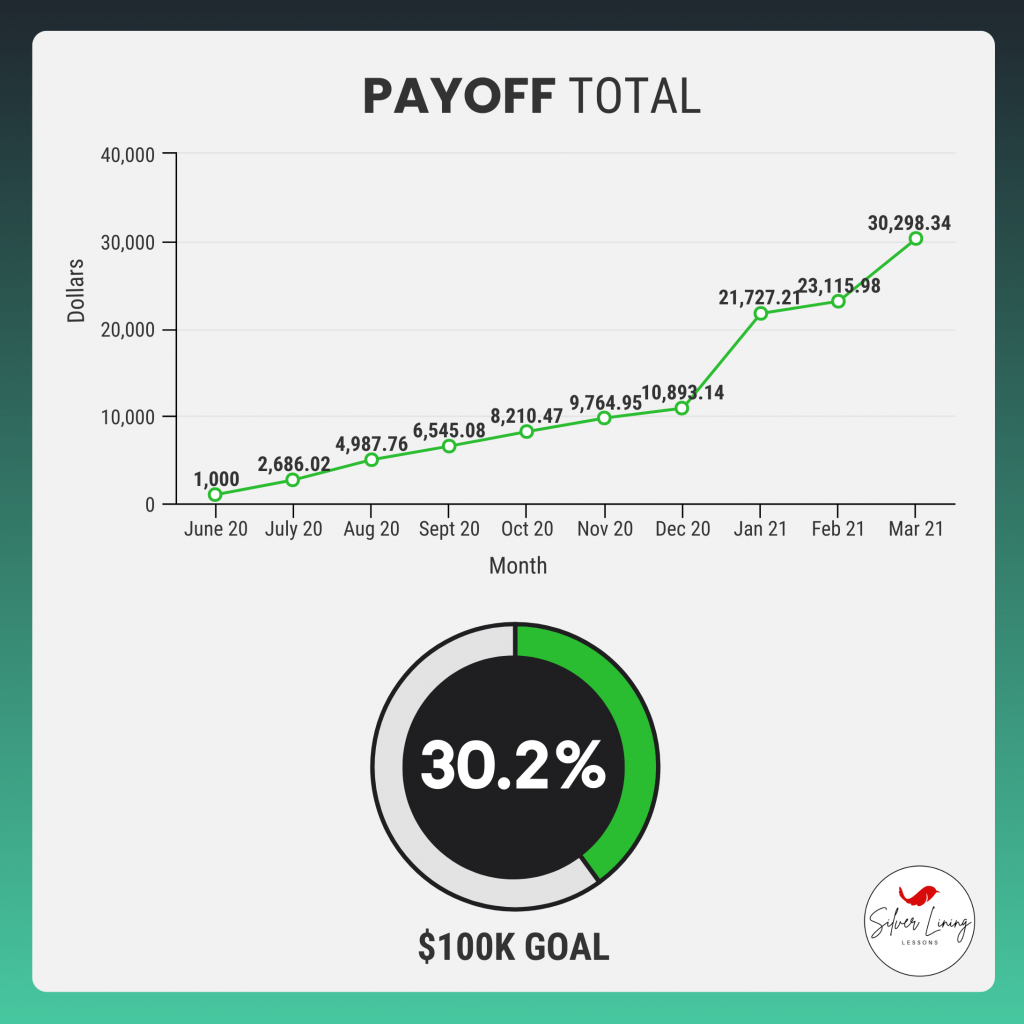 Month 9 – February 2021:

$1,394.77 of debt paid down
After starting the year off with lots of momentum, we ran into a tough month. An unprecedented snow storm hit our area, causing us to stock up a little more groceries than normal, knocking our our budget out of whack.
One bright spot was the extra, and also unexpected, overtime my husband was able to pick up – Silver Lining even in the midst of a crazy, stupid storm!
In true "if it ain't one thing, it's another!" fashion, my car decided to get wild the very first day I was able to leave the house after being snowed in for almost a week. Like, really?! Thankfully, it ended up being a simple fix and only ran us $235 – another sweet Silver Lining!
Debt Paid: $1,394.77
Total Progress: $23,115.98
Month 10 – March 2021:

$7,182.36 of debt paid down
Yes, you read that right! March turned out to be a surprisingly high month for several reasons – my husband's overtime from the crazy blizzard, our federal and state tax refunds, and the Covid-19 stimulus payment.
We wanted to maximize the opportunity to use this money wisely! Guided by the Free Cash Flow Method, we made a lump sum payoff on my husband's car. For the first time in our marriage, both of our vehicles are completely paid off!
On another note, my dishwasher has been limping along for the last two years and finally quit on me. We were able to pay cash for a replacement without dipping into the emergency fund.
We decided to put the remainder toward our Christmas fund. I know that sounds almost silly since it's only March, but we had huge success shopping early last year. It's also nice to completely remove the stress of saving and trying to buy late in the year. I would 10/10 recommend preparing, saving, and buying for the holidays as early as you can!
Debt Paid: $7,182.36
Total Progress: $30,298.34
If you are curious about our previous monthly updates, you can find those posts here:
Show Me The Money: $7k in First Four Months
Money Talks: Yearend Payoff Update [$11k and On The Way]
How I Paid Off Over $20k in 8 Months
As I've said before, we've done this by strict budgeting, cutting back expenses, and learning what is important to us.
The last month in particular was a real full circle moment for me. In the past when I've gotten large chunks of money like a bonus or a tax refund, I wasted no time in blowing every single penny! Seriously, it burned a hole in my pocket from the second the deposit hit. I had to spend it all and as fast as possible. The worst part is that I usually had nothing to show when it was all said and done, just a bunch of junk or clothes I didn't need.
So, this month took more willpower than anything else. I wanted to hit "Add to Cart" and proceed to checkout like nobody was watching, but I knew that would derail our plan. Instead, I did this fun little thing I do when I want to shop and know I shouldn't. I added a ton of things to my bag on Jane.com (I'm talking like a thousand dollars of stuff!) and then ordered one shirt for $20. Hey, don't knock it 'til you try it! I get the rush of a shopping trip without the damage to my bank account.
I'm using what I've learned to stay committed to my goal. I cannot let a moment of weakness over a pair of shoes and jeans throw me completely off course!
Listen when I tell you that the feeling of seeing your loan balance hit ZERO is better than any full cart you can imagine.
Stay the course, friends, and follow your map!
Do you have any milestones to celebrate? Tell me in the comments below. I'd love to cheer you on!
Remember to SUBSCRIBE and FOLLOW US to stay up to date on all things new at Silver Lining Lessons!