Looking for a trick-or-treating alternative this year? Well, you're in the right place. We set out on a mission to make sure our kids did not feel like they missed out on any Halloween fun since we decided to stay home. The house was transformed into our very own scavenger hunt set to the spookiest soundtrack.
Hint: Say "Alexa, play creepy music" for some serious haunted house vibes.
To crack the code and get the ultimate prize, they had to locate all the clues, complete each activity or trick, find the hidden snakes and correctly answer the puzzle boards. Each card on the clue board had either a location clue, trick activity, or food challenge.
We wrapped boxes in black trash bags, cutting a hand slot in top, and secured a shopping bag inside. The bags were filled with various pantry items that played tricks on your mind. Plastic snakes from the dollar store were mixed in, so the kids had to dig around in the mysterious boxes to earn a snake.
Grapes = eyeballs
Cooked spaghetti noodles = slippery snakes
Grape stems = prickly spiders
Corn kernels = rotten goblin teeth
Rotini pasta and dry rice = bugs and ants
They also had to eat creepy snacks in order to earn a snake:
Witch's Earwax: Cut the cotton tips off of a q-tip. Then, push a mini marshmallow onto each end and drizzle the marshmallow with caramel.
Dragon Skin: Flaming Hot Cheetos
Goblin's Fingernails: Dab a little pink icing onto a Bugle, then coat icing with strawberry Pop Rocks. Drizzle a little strawberry syrup for a bloody effect.
Old Mummy Toes: Cut a cooked hot dog in half, then fix a Cheez-It on the end with a pinch of green icing as the dirty toenail fungus.
At the end, they had to go back and match the food item with its corresponding box number/letter. Forget the contents? No problem, just reach in or taste again. The corn kernel box was by far the most avoided, and those old mummy toes were no joke nasty!
The "tricks" consisted of fun tasks such as:
howl like a warewolf
do the Monster Mash
say "It's all a bunch of hocus pocus" when you hear the word Halloween
scratch your ear with your leg like a warewolf
Each completed task earned them a clue and/or a snake.
After finding all sixteen snakes, solving the riddles and puzzle board, they earned the grand prize Pumpkin Chest filled with their favorite candies and prizes.
The hunt worked up quite an appetite, and who doesn't love a festive snack? My favorite part for sure!
These super cute Mummy Dogs and Mummy Cakes were the perfect addition to our party.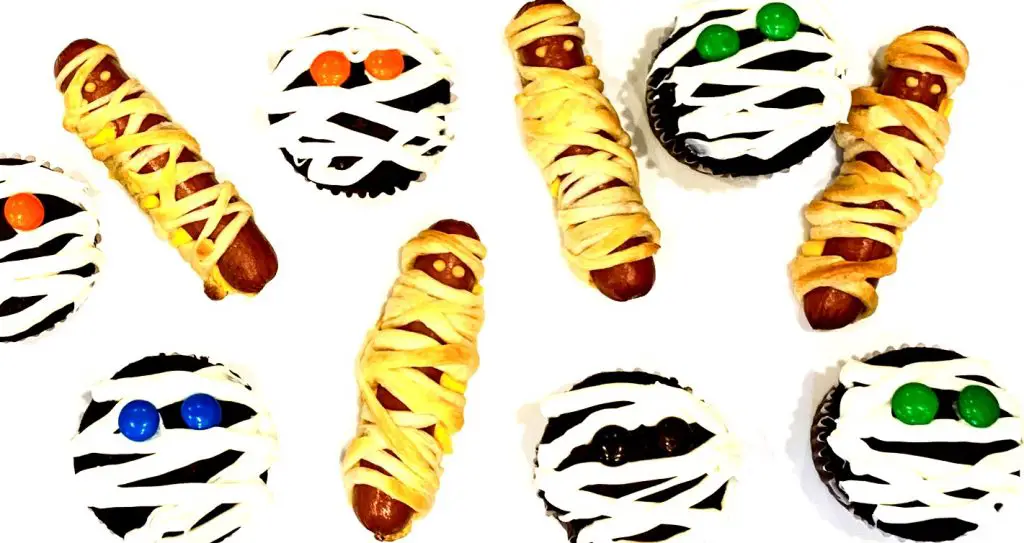 The pure excitement on their faces and the never-ending giggles made the preparation and set up worth every minute. In fact, we may substitute this tradition for trick-or-treating every year.
Cheers to a Happy & Safe Halloween!