In tracking our spending, I realized my husband and I were wasting a ton to get our caffeine fix! Like, way too much! The daily Starbucks trips and gas station runs added up faster than you can shoot a 5-Hour Energy! I knew we had to cut it down, but my husband works the night shift and we all know moms can't survive without caffeine, so things were about to get REAL around here if we didn't find a more affordable lifeline.
So, I went on a mission to find a cheaper way to give us more bang for our buck.
I honestly did not even know how much caffeine was in a regular 6 oz. cup of black coffee. It's important to know how much you are actually getting when trying to decide which drink option best suits you. Turns out, I would need to gulp down about four cups of coffee to get the amount of life in one Bang drink. Problem number one – I don't like coffee unless it's iced and flavored to death from Starbucks. That's not exactly budget friendly, either, so here we are!
Now, have you ever looked at the cost of energy drinks? I hadn't either, but let me just tell you that they are outrageous! One a day, or even several a week, can do a number on your budget.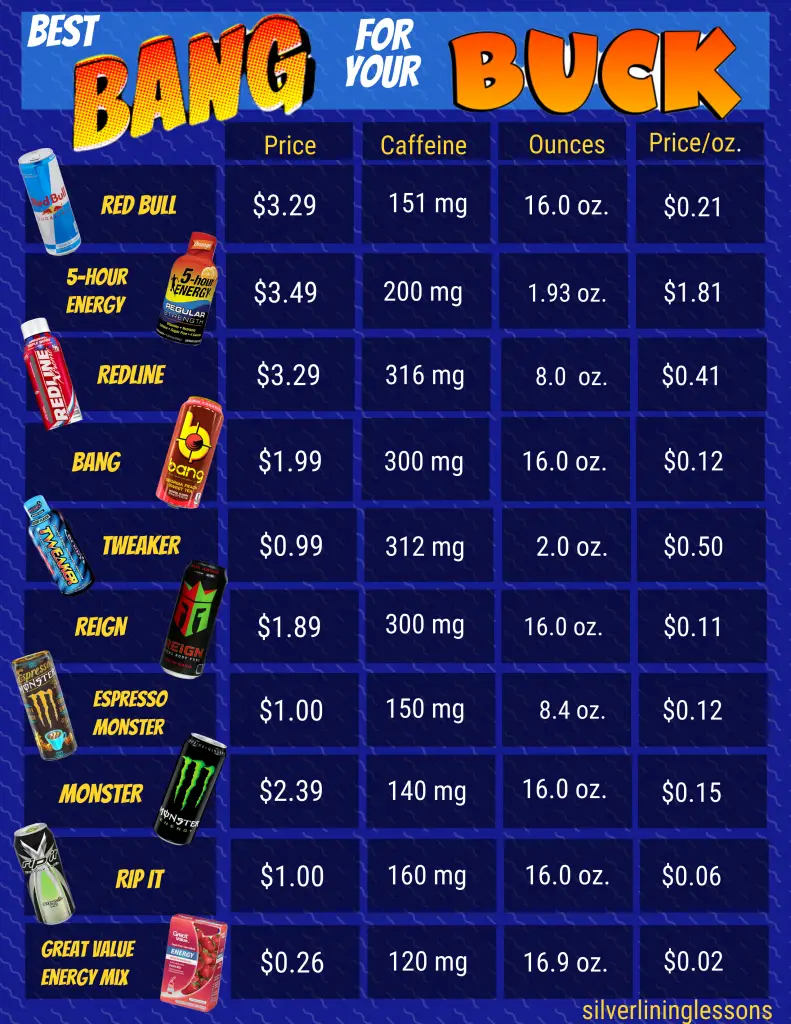 THE WINNERS
1. Great Value Flavored Energy Drink Mix
Coming in at only 26 cents per servings (price includes a generic 16.9 oz. bottle of water), this is the most budget friendly. It packs 120 mg per serving and has NO SUGAR! Zero sugar is extremely difficult to find in any energy drink! There are many flavors to choose from, too. My go-to is the Wild Strawberry, and my husband prefers the Acai Blueberry.
The high caffeine content and price point make this our pick for most budget friendly!
2. Espresso Monster (8.4 oz.)
These are only $1 at the dollar store, if you can find them. I grab a case when I see them in stock! The velvety smooth texture tastes way better than most of the energy coffee drinks out there. With a triple shot of espresso and 150 mg. of caffeine, it hits the coffee craving with an added boost.
This is our pick for best coffee alternative on a budget!
3. Redline (8 oz.)
"Uh-huh, this my sh– / All the girls stomp your feet like this"
This one gets the night shift stamp of approval. While higher priced, this drink will take you to the next level. It slaps with 158 mg. of caffeine per serving and comes with 2 servings per bottle. I have no idea what they put in this proprietary blend, but I wish I could get it in an IV drip! Try the Sour Heads flavor and steer clear of the Cotton Candy.
This is our pick for most effective energy drink and biggest bang for your buck.
Now, for the losers
1. Red Bull Sugar Free (16 oz)
It doesn't really give you wings, but it will leave a hole in your wallet. Maybe it's the too many mixed drinks from back in the day, but this one just doesn't do it for me. It's also extremely over priced for the caffeine content. If you like the flavor but not the cost, Monster makes a Rob Gronkowski version that tastes exactly the same as Red Bull at half the price.
Verdict: OVERPRICED and OVERRATED
2. 5-Hour Energy (1.93 oz)
This one is just extremely overpriced for the amount of caffeine. It does not live up to the hype! If you prefer the energy shot option, I would recommend Tweaker (2 oz) for a better value.
Verdict: OVERPRICED
3. Monster Sugar Free (16 oz)
I cannot get past the cough syrup taste of the original Monster, but the sugar free version is at least tolerable. It's nothing to get excited about, and it definitely doesn't bring the boom!
Verdict: OVERPRICED and LEAVES A BAD TASTE IN YOUR MOUTH
THE BANG VS REIGN DEBATE
Bang (16 oz) vs. Reign (16 oz)
These are like the Hondas of the energy drink world – moderately priced, reliable, and will get you where you need to go every time. At essentially the same price and caffeine content, the only thing that separates these two brands is flavor variety. The winner is undoubtedly Bang with its extensive and on-point flavor selection. If you haven't tried the Champagne, do it. You can thank me later!
WINNER: BANG
HONORABLE MENTION
RIP IT
This is basically the dollar store version of Bang. Half the price, half the caffeine, and half the flavor. Its like a distant cousin of Reign that isn't quite as cool. With a taste pretty similar to Mountain Dew, it's a solid option if you're one of those people who like to nurse an energy drink all day. The cheap sticker price and flashy designs will have your friends asking, "What's in that can?"
Verdict: WORTH A TRY!
What's your favorite energy drink? Let me know in the comments.
Remember to SUBSCRIBE and FOLLOW US to stay up to date on all things new at Silver Lining Lessons!