The safety net was snatched, and we were flying solo.
First, we researched our state's requirements. Here in Louisiana, we had to apply for a home study program with the Department of Education, which was a stress-free online process. The hardest part was trying to figure out how to upload the birth certificates. We even scanned in our daughter's for our son's and vice versa, completely mixing them up, and the sweet lady at the State office quietly fixed it for us. Not too bad for first timers!
It took about two weeks to receive our approval letter (possibly due to the birth certificate blunder), which we turned in to our school, and the kids were officially dropped. We were on our own. It was exciting and daunting all at the same time.
Rogers Academy – Home of the Squirrtles
Est. 2020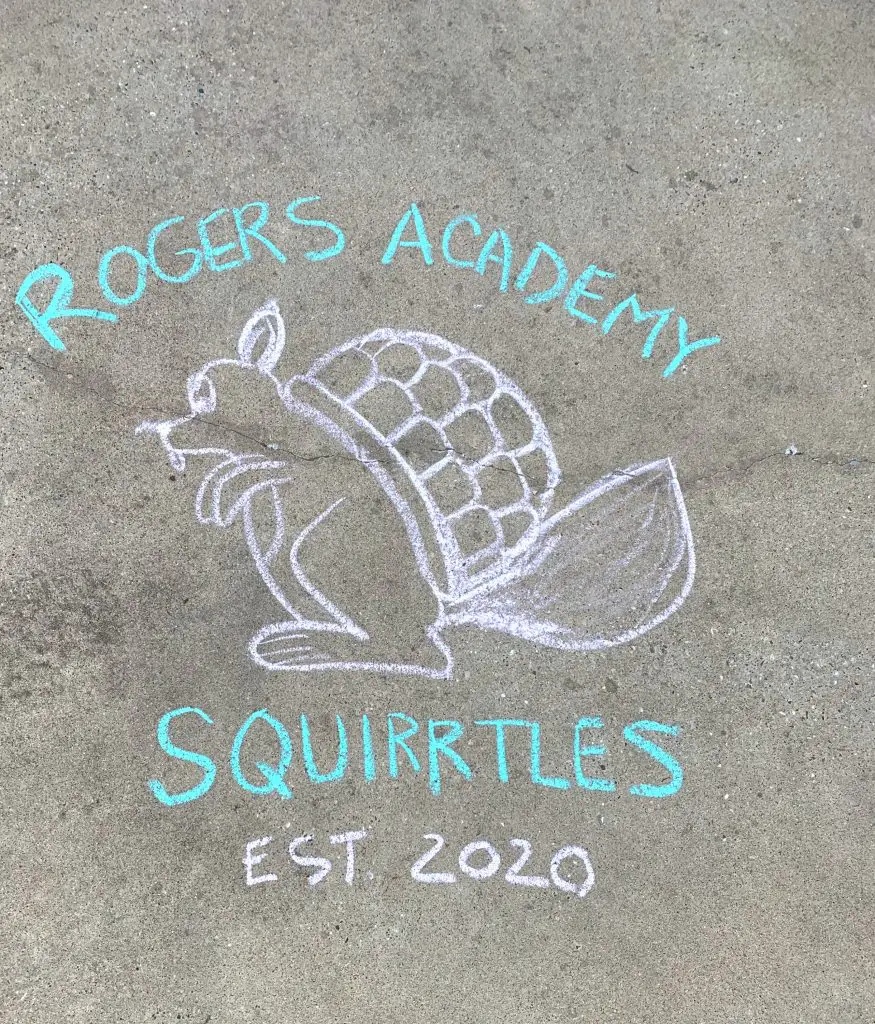 After looking at tons of curriculum options and pining over this decision, the clear-cut choice was Time4Learning. We have access to a curriculum correlating with the state standards for our children's grades along with the grades above and below. For example, my daughter is in 5th grade, and we have 4th, 5th and 6th grade lessons at our fingertips.
The online lessons are engaging and interactive, while also providing top-notch content. My son loves the characters and participatory sessions, often commenting that it's like playing a game. Any program that can make a first grader think double digit subtraction is comparable to a game is a winner in my book.
Time4Learning also supplies printable resources, like lesson plans, worksheets and testing materials. These are super helpful! In addition, the system automatically grades the online lessons, generates online lesson quizzes and more comprehensive chapter quizzes. [Psst. There are printable answer keys for us, parents! You're welcome.]
As if that wasn't enough, Time4Learning also tracks each child's progress and generates reports at the click of your mouse. This is easily one of my favorite features! I can log on anytime and conveniently see where we are on our weekly plan. At the reasonable cost of $19.95 per month for the first child and $14.95 for each additional child, it is worth every penny! Click our Time4Learning Member Referral link for more details.
In addition to Time4Learning, we also pulled our state education standards by grade level from their website and incorporated supplemental workbooks and resources into our own lessons. I found items online along with some classroom essentials to get us geared up and ready to succeed.
If you are anything like me, the idea of homeschooling is overwhelming at first. I just assumed it was an extremely complicated process and almost quit before even trying. I'm here to tell you that there are options and it is attainable, actually even easier than you may be thinking.
"If you know you're going home, the journey is never too hard."  – Angela Wood