It's been quite a year for Taylor Swift with two surprise album drops and two documentaries, and we have loved every minute of it. My ten year-old daughter and I have bonded over our shared love of the melodies and lyrics. We've also seen many lists swirling around ranking Taylor's songs. Every time we read one, we find things out of order and sometimes way off. So we decided to make our own! We spent hours pouring through all of the albums and discussing our favorite tracks, carefully ranking as we went along. Many of them have sentimental places in our hearts, some get stuck in our heads, there are classics, and then you have a select group that are musical gold.
We started with Taylor's nine albums, including bonus tracks, and took out the songs we could live without. Once those were eliminated, we ranked each album based on the percentage of songs left standing. Then, we ranked the remaining tracks by album. Lastly, we ranked our number ones, leaving us with an ultimate favorite. It was a lot of work, but it was also such fun reminiscing over some songs I hadn't heard in a long time.
Here are the totally unofficial Taylor Swift rankings according to us:
9. Taylor Swift
8. Mary's Song (Oh My My My)
7. Cold As You
6. Picture to Burn
5. Should've Said No
4. Our Song
3. Invisible
2. Teardrops On My Guitar
1 Tim McGraw
Favorite Lyric:
When you think Tim McGraw
I hope you think my favorite song
Someday you'll turn your radio on
I hope it takes you back to that place
8. Fearless
12. You Belong With Me
11. Untouchable
10. Change
9. The Best Day
8. Love Story
7. Breathe
6. Come In With the Rain
5. Fearless
4. Fifteen
3. Forever & Always (Piano Version)
2. You're Not Sorry
1. White Horse
Favorite Lyric:
This is a big world, that was a small town
There in my rear view mirror disappearing now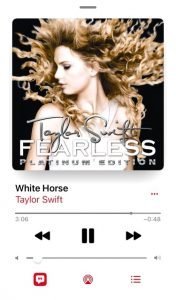 7. Lover
12. ME!
11. Paper Rings
10. London Boy
9. Cruel Summer
8. Soon You'll Get Better
7. Daylight
6. The Archer
5. Miss Americana & The Heartbreak Prince
4. Lover
3. Cornelia Street
2. Death by a Thousand Cuts
1. Afterglow
Favorite Lyric:
I blew things out of proportion, now you're blue
Put you in jail for something you didn't do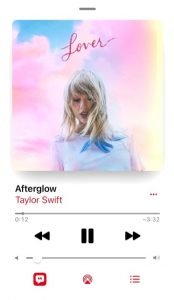 6. Reputation
11. …Ready For It?
10. I Did Something Bad
9. End Game
8. Getaway Car
7. Don't Blame Me
6. Delicate
5. Call It What You Want
4. King of My Heart
3. Dress
2. New Year's Day
1. Dancing With Our Hands Tied
Favorite Lyric:
I'd kiss you as the lights went out
Swaying as the room burned down
I'd hold you as the water rushes in
If I could dance with you again
5. 1989
11. This Love
10. All You Had To Do Was Stay
9. Blank Space
8. You Are In Love
7. Bad Blood
6. I Wish You Would
5. Out of the Woods
4. Style
3. Wonderland
2. Clean
1. Wildest Dreams
Favorite Lyric:
You see me in hindsight
Tangled up with you all night
Burning it down
4. Speak Now
12. Speak Now
11. Sparks Fly
10. Mean
9. Never Grow Up
8. Mine
7. Haunted (Acoustic)
6. If This Was a Movie
5. Innocent
4. Dear John
3. Enchanted
2. Last Kiss
1. Back to December (Acoustic)
Favorite Lyric:
So this is me swallowing my pride,
Standing in front of you, saying, "I'm sorry for that night,"
And I go back to December all the time
3. Red
14. Sad Beautiful Tragic
13. The Moment I Knew
12. 22
11. State of Grace
10. I Knew You Were Trouble
9. The Lucky One
8. Everything Has Changed
7. I Almost Do
6. Starlight
5. Begin Again
4. Treacherous
3. Red
2. The Last Time
1. All Too Well
Favorite Lyric:
Hey, you call me up again just to break me like a promise
So casually cruel in the name of being honest
2. evermore
14. no body, no crime
13. cowboy like me
12. closure
11. coney island
10. 'tis the damn season
9. marjorie
8. evermore
7. happiness
6. long story short
5. willow
4. champagne problems
3. tolerate it
2. gold rush
1. ivy
Favorite Lyric:
Oh, I can't
Stop you putting roots in my dreamland
My house of stone, your ivy grows
And now I'm covered in you
1. folklore
17. betty
16. seven
15. illicit affairs
14. mad woman
13. this is me trying
12. the last great american dynasty
11. mirrorball
10. august
9. peace
8. epiphany
7. hoax
6. the lakes
5. my tears ricochet
4. cardigan
3. invisible string
2. exile
1. the 1
Favorite Lyric:
We never painted by the numbers, baby
But we were making it count
You know the greatest loves of all time are over now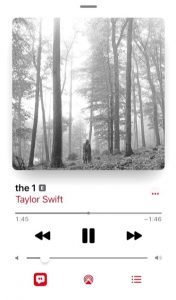 All The Number Ones
9. Dancing With Our Hands Tied
8. ivy
7. Tim McGraw
6. Afterglow
5. Wildest Dreams
4. the 1
3. White Horse
2. Back to December
1. All Too Well
The Honorable Mentions
dorthea
Hey Stephen
Long Live
We Are Never Ever Getting Back Together
Welcome to New York
I Think He Knows
THE END [game]
What's your favorite T-Swift song?